What reader expectations does today's cool book cover bring into play?
Creepy is the word that most likely enters the reader's mind upon first glance. The eye immediately falls to the little girl's face, which bears more resemblance to that of a scowling old hag. The clothing appears to be something a 1920's Flapper would wear, but the stocking and buckle shoes belong on a child. The halo lighting effect around the girl's feet then draws attention to her form which appears to be suspended above the ground.
Her figure is surrounded by a grainy black and white barren forest where she hovers over the title. The name of the home appears in nice proper lettering, but "peculiar children" appears below it in an awkward chalkboard scrawl. What are the children like that live in this home? How did they end up there? Are they taken care of? Do they all seem as miserable as the girl on the cover?
Book Description Via Amazon
A mysterious island. An abandoned orphanage. And a strange collection of very curious photographs. It all waits to be discovered in Miss Peregrine's Home for Peculiar Children, an unforgettable novel that mixes fiction and photography in a thrilling reading experience. As our story opens, a horrific family tragedy sets sixteen-year-old Jacob journeying to a remote island off the coast of Wales, where he discovers the crumbling ruins of Miss Peregrine's Home for Peculiar Children. As Jacob explores its abandoned bedrooms and hallways, it becomes clear that the children who once lived here—one of whom was his own grandfather—were more than just peculiar. They may have been dangerous. They may have been quarantined on a desolate island for good reason. And somehow—impossible though it seems—they may still be alive.
A spine-tingling fantasy illustrated with haunting vintage photography, Miss Peregrine's Home for Peculiar Children will delight adults, teens, and anyone who relishes an adventure in the shadows.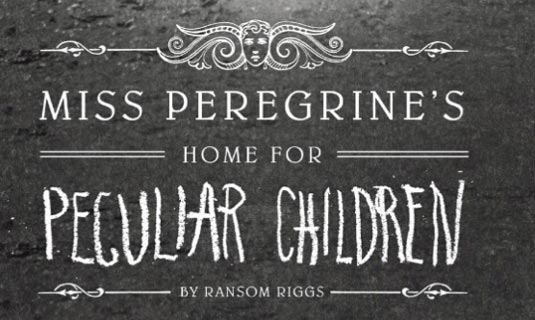 Are you intrigued enough to put Miss Peregrine's School for Peculiar Children on your reading wish list? Nearly a year after being creeped-out by the cover, I have downloaded it and will soon be writing a review.
You can connect with Ranson Riggs on his blog, Twitter, Facebook, YouTube, and Goodreads.
Thanks for visiting. Share the blog love and leave a comment below or post this entry to your favorite social media site!
Sign-up via the email or RSS option in the sidebar to receive JeriWB's latest posts. You can also follow JeriWB via the various social media platforms listed on this website. Let's learn together!
Quote of the Day: What not share some words of wisdom and copy the image below to your Facebook or Google+ page?